"Today, nowhere else in the world can we find a solution that brings together so many functionalities on a single medium for the benefit of all audiences. The HistoPad is the complete means to successfully popularize modern and effective knowledge. We are proud today to be the first to make it available to everyone, in the service of a cultural policy that is as demanding as it is generous".
Cécile Helle, Mayor of Avignon.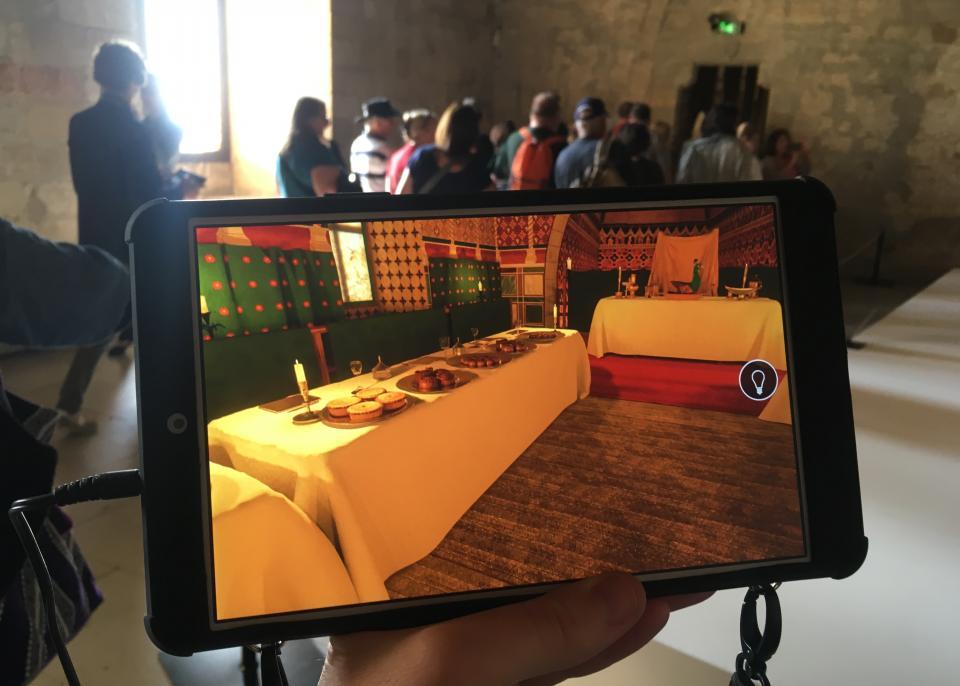 With the Histopad digital tablet, cross the gates of time and relive the splendours of the papal court in the XNUMXth century in multimedia immersion. The HistoPad is a touch pad that is given to each visitor. It provides a fun and interactive visit experience. Thanks to augmented reality, the visitor can visualize a large part of the rooms of the Palace of the Popes as they could have been in the XNUMXth century.
A digital guide for an immersive visit : the HistoPad allows you to make a virtual visit of 9 main rooms of the palace which have been re-imagined thanks to augmented reality in their decorations of the XIVth century. Audio commentaries enriched with musical illustrations present the places and their functions, text labels come to describe in addition the pieces of furniture, works of art and reconstructed decorative elements. Users can zoom in on objects and scenery to discover the finest details. 360° views allow close-up views of certain rooms with fragile painted decorations to which public access is limited. A film retraces the history of the construction of the Palace thanks to images reconstructed in 3D.
A geolocation all along the circuit : the HistoPad is triggered automatically as soon as you enter a room thanks to a system of geolocation beacons. Animated maps allow visitors to orient themselves, organize their discovery and indicate their position on the past or future route.
A fun and interactive treasure hunt for young audiences : a playful animation for the youngest is offered in the immersive views in order to develop their curiosity and animate the visit. Each returned room thus presents a virtual object in which is hidden a coin minted with the effigy of the Popes. Open the secret caches of a chest, lift the Pope's beautiful crockery from his dresser, explore a table nave… The young participants will find an interactive and educational activity rewarded with a surprise.
And also…
Tactile totems are available to guides along the route, with an image database that allows them to comment on the evolution of the construction of the monument, the decorations and the reconstructions of rooms in reality increased.
New : Rest areas for people with reduced mobility or who feel the need to stop, mark out the route and allow you to enjoy a seated break and benefit from historical information. They are also put in place to comply with health standards.